If you operate a shop floor, you need to understand how to make products stand out on the shelves.
With very little printed information or literature on display, it's hard to make the sale through words, so naturally, we need to turn to a more visual form of merchandising to encourage customers to make that all-important purchase.
If you're new to the in-store marketing game or you're looking to enhance your sales through visual merchandising, you're in the right place.
The Dee Set team specialises in getting your products off the shelves almost as quickly as you put them on. We create an environment that doesn't just support sales but actively tracks and enhances performance using data insights and visual merchandising techniques.
What does that mean for your business?
Simply put, more sales. Every brand that works with us has growth in mind, and our platform helps them get there.
Get in touch with our team right now if you simply can't wait to get started, or carry on reading below to learn how visual merchandising can transform the way that your products perform in-store.
What is visual merchandising?
Visual merchandising is a marketing practice that's used in stores to effectively optimise the environment to attract more customer attention.
In simple terms, it's the process of setting up a store in a way that reduces the barriers that may prevent a sale, making it easier to convert any potential customer that walks through your doors.
The first thing that visual merchandising requires is a clear understanding of your customers and the benefits that your products and services have on their lives.
Understanding these benefits means in-store displays can be better customised for maximum impact.
As the name suggests, visual merchandising is all about how things appear. You'll be looking to entice your customers aesthetically, and this means putting a great deal of time, care, and effort into the way that your products look both on store shelves and in store window displays.
But this doesn't always mean that you have to make your product look pretty - in fact, that may be the opposite effect of what you want to achieve for an item such as a drill or a saw.
It's all about knowing your audience, understanding the appeal of your product, and being able to create an environment that heightens each shopper's desire to acquire your product right there and then.
It's not just a principle that helps you to sell a single product, either. You can take a visual merchandising approach to your entire store, making your brand the focus of your efforts, rather than a single item.
Taking this approach increases the touchpoints that previously uninterested customers have with your brand and products, increasing the likelihood of them making that all-important purchase decision.
Types of visual merchandising that you can utilise
So, how can you turn your ordinary store into a social media hotspot that sets the world alight?
It's all in the design.
And that's where our team comes in.
As a full-service field marketing and merchandising agency, we know a thing or two about how to make a product sell.
Over the years, we've developed tried-and-tested strategies for in-store marketing that increase the sales of our client's products.
We've spent the time getting to know what does and doesn't work, creating a refined set of best practices that we can deploy to increase the impact of the products on your shelves.
Here are a few of our most effective visual marketing methods:
Customer Experiences
Sometimes it takes more than seeing to get your customers to believe it.
Active selling and excellent customer experiences often go hand in hand, which is why product testing and sampling can be great ways to engage your target market while attracting footfall.
First used as a marketing method by a soap company back in the 1800s, product sampling is now one of the most-relied upon methods when it comes to establishing your offering in a saturated market.
This gives your shopper the opportunity to put your product to the test, while tapping into the irresistible 'power of free'.
This is a strong behavioural bias that makes anything that comes without a pricetag more attractive and motivating than its competitor, prompting your customer to effectively 'try before they buy.'
There's nothing like a exciting display with a friendly face that draws the eye, which can only be boosted through the offer of irresistible product samples or testers.
Once you've got their attention, your product can then work its magic, helping to cultivate a customer experience that can increase your brand's exposure.
It can also leave your customers feeling confident with their upcoming purchase, helping to create repeat buyers who simply can't get enough of your product - which is the dream for any in-store marketer!
Interactive displays
Humans engage more with things that they're able to interact with.
It's a simple fact of nature and something that you'll be able to use to your advantage in a retail environment. After all, influencing consumer behaviour is exactly what we're trying to achieve with visual merchandising.
Interactive displays with touch screens, sounds, and different textures all help to immerse the shopper into the experience of your store. If you're able to incorporate these displays in your store, you can expect a boost in audience engagement that translates into more sales.
Checkout displays and FSDUs
The final barrier before a purchase is made: the checkout.
Whilst this may seem like a place where you need to tread carefully, it's an ideal spot to increase your marketing efforts!
The average shopper makes three unplanned purchases in 4 out of every 10 store visits they make - essentially, people love to be convinced to buy things at the point of purchase.
One of the key marketing tools for these situations is FSDUs, also known as free-standing display units. These units can be conveniently placed beside the checkout and queueing area, providing the opportunity to encourage shoppers to make small impulse buying decisions right at the moment they hit the checkouts.
FSDUs are highly effective visual merchandising tools in retail stores, particularly supermarkets and clothing stores, where you'll often find convenient, low-value necessities such as socks, underwear, and refreshments being offered.
Get in touch with us today
Implementing visual merchandising strategies in your stores can be a tough job, especially if it's not your area of expertise.
That's why the Dee Set team is on hand to help you devise the perfect plan for increasing sales in stores.
We'll work with you to learn what makes you tick - the benefits of your brand, the USPs of your products, and the unique layouts of your stores, giving us all the information we need to create a plan of action that'll hit the mark.
If you'd like to learn more about the services that we can offer to your business as a full-service field marketing agency, you can carry on reading right here on our site!
Alternatively, give us a call or fill out our online form to take the first step towards a full-optimised store environment today!
– David Pugh, Dee Set CIO
The Dee Set Group has been on quite the journey in recent years, with its investment in data and tech, and completing acquisitions which not only secure but strengthen its position within the market. David Pugh, Dee Set Group CIO, reflects on the reason and importance these changes have for the future of the Group.
As a term, business transformation is critical to how companies survive and evolve. If they don't transform, they don't survive.
Business transformation is part of any forward-thinking company's way of working, and there are three key components to any successful transformation:
People - many are too comfortable in their jobs and will always do things the same way. You have to get people to adapt and buy-in to what you are doing by selling the benefits.
Process - people flows into process. Getting the right processes in place to drive efficiency and implement new tech/ systems is key. If proper processes are not in place, people can be ineffective and the technology will fail.
Technology - this is the enabler of business transformation but landing it successfully is difficult. The sweet spot is getting the synergy between the people and process right first for the model to work."
Concrete actions businesses can take to kickstart a successful business transformation
Getting under the skin of the business at all levels is critical to devising your transformation plan. You have to be able to understand your 'as is' environment i.e. what you've got and your 'to be' environment i.e. your new world.
I spent the first three months in my role at Dee Set Group talking to people, figuring out the board's vision, visiting stores, looking at operations and the technology used.
From here, you develop a high-level strategic plan that should align with the business vision and customer needs.
Most importantly, go back and sense-check your plan regularly to ensure you're on the right path. How often you sense check really depends on the type of product, size of the programme and duration, but a sensible timeframe for our 2 ½ year transformation project has been quarterly.
Ensure you revert back to your objectives and goals. Ask yourself - are you on the right path? Has the business model or customer needs changed? Sometimes you need to pivot, so checking back against your plan is critical to identifying this."
Improving relentlessly
Once you start down the path of transformation, you can't go back and it never ends. It's a continuous cycle of improvement.
This is where people, process and technology go hand in hand. Businesses need to be constantly looking at their operating model in response to changing market conditions, looking at organisational structure, ways to apply technology and improve processes.
Initial transformation is the foundation for a business that will continue to improve and gain competitive advantage.
The end goal?
As a business, if we hadn't made the big transformational changes we did over the last couple of years we would be seriously lagging behind our competitors' customer proposition.
Transformation has allowed us to build a suite of systems that allow us to do more. It's given us a better sell proposition, allowing us to win more business, increase profits and implement better processes internally. It's also helped us retain about £3-4 million worth of revenue streams from existing customers.
Business transformation has created a foundation for growth.
Ultimately though, the end goal for any business transformation is to achieve your 'to be' environment i.e. your vision, but the caveat here is this is always going to evolve and change as you look to reinvent and remain relevant in an evolving world.
The state of play
With 1.3 million vacancies in the UK, the recruitment sector has never had such a challenging time. Post-pandemic, there has been a significant shift in people applying for roles – more people over the age of 50 have decided to take early retirement to spend time with family and Brexit has removed an entire European workforce. The result - 2 million fewer people looking for work and a scrabble by HR teams to find the best candidates in the quickest amount of time.
The challenge Antony Lee, Dee Set Group People & Retail Director, and other HR Directors face is how to minimise the time and cost spent on recruitment whilst ensuring that those recruited are correctly skilled and want to stay in the role they are recruited for.
Are CV's now old hat?
Whilst the CV is still regarded as a true representation of candidates, at Dee Set we have turned to AI to make the recruitment process beneficial for us, and our candidates, today. Why? To ensure our recruitment process is efficient, unbiased, and exceptionally quick at securing new talent and getting them into work quick - often within 48 hours from the initial enquiry.
One of the key lessons we have learnt since the start of the pandemic is that people now apply for multiple roles at the same time – and they will accept the best role that makes them the offer the fastest. Candidates no longer have time to wait a week between interviews to see if they are suitable. If recruiters can't act quickly, they ultimately will have wasted time and resources on the recruitment as the candidate will have gone elsewhere before their process has been completed.
Our approach to recruitment
To make the recruitment process work in favour of the candidate - our online recruitment portal is accessible 24/7. For Stage 1 the candidates are asked three or four questions about the role they are applying for. If they are successful, they are offered a face-to-face interview for Stage 2. By using AI, our candidates are anonymised which takes away any bias, that could be conscious or unconscious bias around the application process – until we meet them in Stage 2, we have no knowledge of who they are and their employment background. We recognise that technology is not the answer to everything we do – there is an absolute need for some face-to-face contact as we still need to understand who that person is. Once a candidate has accepted a job offer after stage 2, they are sent out a contract of employment which once signed and returned means we are ready to go. Our AI process means we have slimmed down the entire recruitment process from 17 days to just 48 hours.
Recruitment with CVs puts the candidate's communication skills and attitude at the forefront of their application and those are the skills we're hiring for. However, this method of recruitment is only a success because comprehensive training is embedded across the entire organisation. We know that we can train the technical side of the role into the individual with the right core skills to succeed. Training is also ongoing, and we encourage self-learning through our training platform. All employees have access, and they can learn anything they want to.
Is there room for even more tech to help us hire?
Whilst future recruitment will see more technology being used, there will always be the need for human interaction within the process. Technology being trialled presently is a second stage video interview (which follows our existing first stage text-based first interviews) - helping to support the need for speed in recruitment in an environment which is flexible to the candidate - anytime, anywhere. As part of this trial we are conscious to ensure that we don't undermine conscious bias in our recruitment process.
In conclusion, what is important is that organisations realise that the recruitment process is not just the recruitment process. It's the first step into the culture of an organisation. How you recruit someone is the start of a bigger culture of training, communication, and progress.
We're proud to announce that we've been shortlisted in the Best Candidate Experience category at the 2022 FIRM Awards, set to take place on Tuesday 14th June at the Grand Connaught Rooms, London.
The FIRM Awards
The FIRM (The Forum For In-House Recruitment) was set up in 2013 to celebrate the very best of in-house recruitment excellence, innovation and best practice. The FIRM set out to inspire and set the standard for in-house recruitment and provide opportunities for members to be recognised for their achievements by their peers in a prestigious and inspiring environment.
Dee Set's award submission comes off the back of its partnership with eArcu. Over the last two years we've developed a cutting-edge AI recruitment process which is more meaningful and seamless not just for our recruiters, but also for our candidates.
Our candidate and tech centred approach
Our unique process allows us to first conduct a text-based first interview with each candidate and then use algorithms and AI scoring to generate suitability reports for our recruiters.
For us, it's not about the number of applications we receive, but ensuring that we are attracting the right candidates and aligning them with the right job within the business. By reviewing these reports the recruiter can then look to process candidate applications to the next stage, whilst in the meantime, the candidate receives a personalised feedback report, which notes their strengths as well as tips and suggestions of where they may want to focus and improve on in future.
Over the last year we have received over 26,000 applications and conducted over 11,000 interviews, resulting in the successful hiring of just over 1,800 colleagues
83% of our applicants told us that they enjoyed the interactive application process
73% of our applicants reported that they felt more self-aware following their feedback report
And the winner is...
Dee Set will go head-to-head against many household names at the FIRM Awards to take the title of 'Best Candidate Experience', including: AstraZeneca, Royal Mail Group, United Nations Development Programme (UNDP), Virgin Media O2, Vodaphone and Atkins. Its therefore testament to the strength of our award entry that we are able compete against these heavyweights. You know what they say about the underdog though!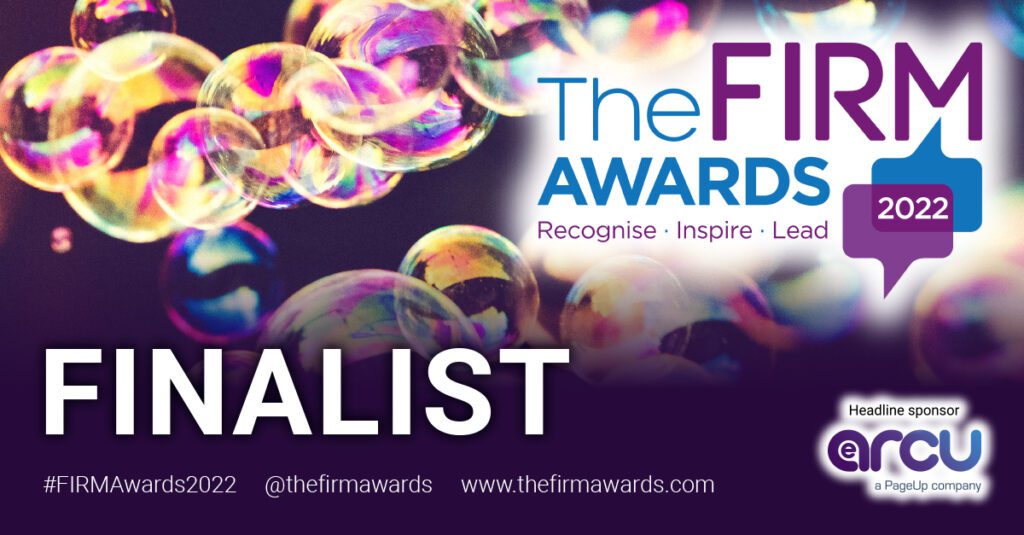 Antony Lee, People & Retail Director commented: "We're delighted to be recognised for this award. We've worked hard to create a recruitment process that is candidate focussed, flexes our tech capabilities, and takes some of the heavy lifting away from our recruiters, adding even more value to the team's roles and responsibilities.
"It doesn't stop there though. As a business we look to improve relentlessly and continuous innovate. Recruitment is no different and during these challenging times within the job market, this is even more important now than ever before.
"We're honoured to be recognised against some of the biggest names in the country and we wish them and all the other businesses shortlisted in the other award categories the very best of luck."
Want to see what all the fuss is about? Why not check out our candidate experience for yourself and apply for one of our current vacant roles.
Fingers crossed the journey doesn't end here.
A data and tech journey
Earlier this year, we announced that we'd drive digital transformation in retail field marketing, and as part of our ambitious plans we would create a data and tech solution that would lead to marketing-leading insights that both retailers and brands could benefit from globally.
Well, we've done just that. Today the Dee Set Group is proud to launch Reapp.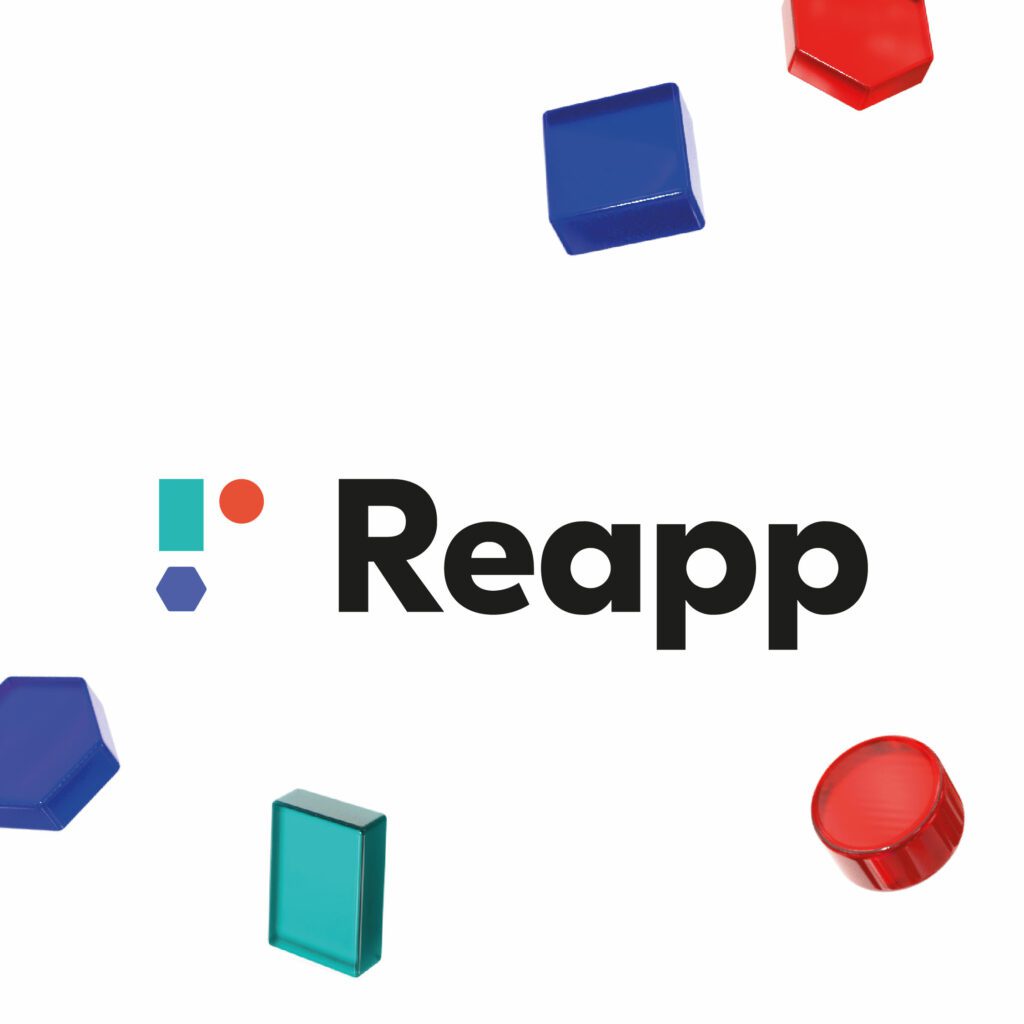 Introducing Reapp
After reinvesting over £10 million into our data and technology in recent years, and with a further £7 million worth of investment planned by 2025, Reapp is a suite of bespoke, cutting-edge software applications that empowers brands and retailers to smash their targets. By harvesting the very best data from a wide range of sources, Reapp simplifies that information to generate decisive sales actions at the shelf edge. As a result, product availability and compliance are optimised, and you reap the success of increased sales and greater ROI.
Put succinctly, Reapp is your friend in the field. It makes the complex, simple, and the unseen, seen.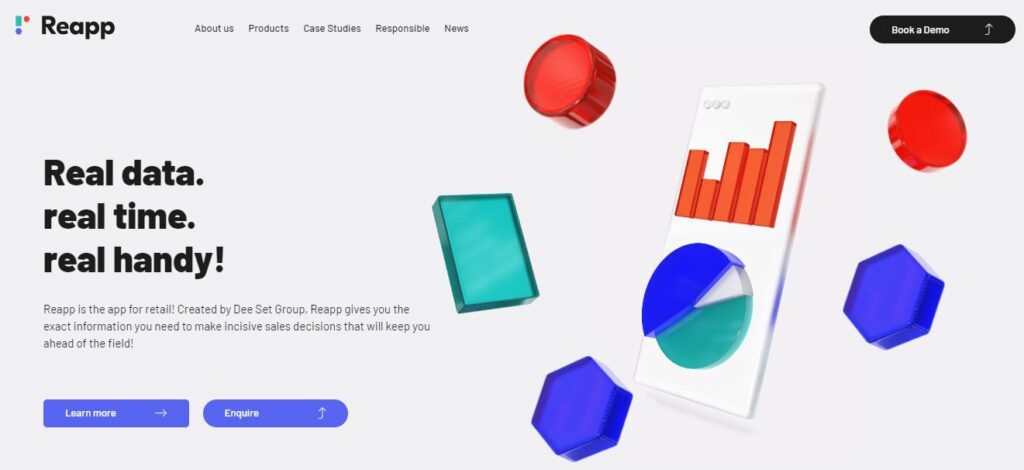 Real insights. Real time. Real handy!
Reapp's services are split across three areas:
Reapp Analytics: Is the brain of Reapp. It harvests data from all sources and delivers them through our bespoke software, so that real decisions can be made in real time in the field, to deliver real results
Reapp Performance: Our mobile enabled software, with leading image recognition technology works in partnership with Reapp Analytics to provide sales and stock insights, plus prioritised actions to field teams, keeping you one step ahead of the competition
Reapp Rewards: Our cutting-edge promotional software collects data direct from the retailer, giving you real-time insights into what products they are buying, where from and how. This knowledge makes your retailer relationships even more rewarding
Pretty cool, right?
We could give you the full sell here, but we'd rather you go check out Reapp in all its glory over on the new website we have launched – Reapp.uk. We're really chuffed with it.
Make sure to check out our case studies, they'll show you what we do not only works again and again for our customers, but could for you too.
Seen or heard enough? Send us an enquiry, book a demo and we'll show you first hand the power of insights!
Dee Set CEO, Greg Phillips provides comment in The Grocer's latest feature, written by Harry Holmes (The Grocer, Features Editor):
This year, the World Cup is moving to December. Will other summer sporting events take centre stage? And how will food and drink deal with the pressures of a World Cup at Christmas?
Qatar, 18 December 2022. The clock ticks towards 9pm. After 120 minutes of the World Cup final, the two teams cannot be separated. In the penalty shoot-out, Gareth Bale misses Wales' final kick. Harry Kane makes his way towards the penalty spot. A nation holds its breath.
OK, OK, let's not jinx it. But with the bookies predicting England will reach at least the semi-finals (Wales and Scotland's odds are marginally less favourable) there are surely at least a few fans dreaming football could this year be coming home for Christmas.
If it does, it won't just be the fans in wild ecstasy. Food and drink brands will be partying too. For as one of the biggest events on the planet, the football World Cup is an almost unrivalled opportunity to boost sales and entrench their brand in the hearts of millions of fans. Especially when the home nations do well.
The Three Lions' final-reaching run in the Euros last year generated an additional £2.3bn of food and drink sales in the UK, and that's not even including pubs. Add those in and the total comes to £3.1bn, according to the Centre for Retail Research – not far off Iceland's total annual sales.
Yet this year's World Cup has changed the rules of the game somewhat. Qatar's scorching heat means the tournament has moved away from its typical summer slot into November and December – with the final due just one week before Christmas Day.
It presents some unique questions for the year's sporting calendar. Namely, how will businesses adapt when one of the world's largest sporting events collides with the ever-manic build-up to Christmas? And secondly, can any other sporting event can fill the World Cup's place as the dominant fixture of the summer?
"How people try and blend Christmas and World Cup promos will be a real challenge"
To understand the impact on the summer's events, it's vital to understand what a winter World Cup means for retailers and brands.
"This year is a really one-off dynamic," says Greg Phillips, CEO of Dee Set, which works with Sainsbury's, Morrisons, Asda and Waitrose on in-store marketing strategies. He argues the timing of 2022's biggest sporting event will have clear ramifications "on marketing budgets and use of space in store".
Largely, this is because Christmas is just around the corner, so "how people try and seamlessly blend Christmas and World Cup promos will be a real challenge," he explains. "But a real opportunity for the retailers and brands who get it right."
To his mind, a joined-up and creative approach will be essential. "Think footy-mad Santa, elves' freestyle football tricks and 12 days of Cristiano," he suggests.
Any activity will certainly need to deliver maximum impact given the expected cost of advertising at this time. Granted, food and drink brands will no longer have to jostle for slots with sectors such as the travel industry, which usually invests heavily in advertising around the summer tournaments. But within the food sector, competition will be at its peak as the collision of the World Cup and Christmas for the first time leaves many food and drink companies feeling they can't afford to miss out.
"It's going to be very, very competitive," says Phillips. "If you want to land a promotion in November and December in any year that comes with a ticket. But then add in how competitive the sponsorship and marketing around the World Cup will be and brands are going to be really keen to be at the forefront of that."
For some categories, however, it won't be possible to go all-out. The new HFSS laws landing in October mean foods like crisps and bagged snacks will be banned from daytime TV advertising, as well as prominent promotions in stores.
With new HFSS laws landing in October, the World Cup is badly timed for foods like crisps and bagged snacks
For them, the World Cup is terrible timing. Had it taken place in the summer, snacks like crisps would be front and centre of every supermarket's campaign as one of the traditional bedfellows of major sporting events. As it is, the tournament rolls around once these new laws are in place and could be a painful time for brands unless they have reformulated successfully.
On the flipside, that timing could be a gift for booze brands. As most 'party foods' will be banned from promotional slots on aisle-ends, retailers will be looking to other categories to fill this space. Based on trials taking place at Tesco, alcohol is in pole position to appear in these areas.
Booze brands will certainly need to drive sales in retail, given that a Christmas World Cup will be bad news for sales in pubs and bars. Budweiser is predicting lower than normal on-trade sales – and the higher margins that come with those – as many fans opt to watch from home, rather than jam-packed beer gardens.
It is banking on higher uplifts in retail sales to compensate, with a forecast 30% rise in retail sales through the Christmas period. It's an improvement on the figures seen during other tournaments. During last year's Euros, for example, it grew sale volumes by 18%.
The timings of England's games will also help to boost those volumes. Two of their games in the group stage – including a potentially intoxicating clash against Wales or Scotland – are at 7pm UK time, setting the scene for fans to watch the match with a drink after work.
Read the full article here.