We're proud to announce that we've been shortlisted in the Best Candidate Experience category at the 2022 FIRM Awards, set to take place on Tuesday 14th June at the Grand Connaught Rooms, London.
The FIRM Awards
The FIRM (The Forum For In-House Recruitment) was set up in 2013 to celebrate the very best of in-house recruitment excellence, innovation and best practice. The FIRM set out to inspire and set the standard for in-house recruitment and provide opportunities for members to be recognised for their achievements by their peers in a prestigious and inspiring environment.
Dee Set's award submission comes off the back of its partnership with eArcu. Over the last two years we've developed a cutting-edge AI recruitment process which is more meaningful and seamless not just for our recruiters, but also for our candidates.
Our candidate and tech centred approach
Our unique process allows us to first conduct a text-based first interview with each candidate and then use algorithms and AI scoring to generate suitability reports for our recruiters.
For us, it's not about the number of applications we receive, but ensuring that we are attracting the right candidates and aligning them with the right job within the business. By reviewing these reports the recruiter can then look to process candidate applications to the next stage, whilst in the meantime, the candidate receives a personalised feedback report, which notes their strengths as well as tips and suggestions of where they may want to focus and improve on in future.
Over the last year we have received over 26,000 applications and conducted over 11,000 interviews, resulting in the successful hiring of just over 1,800 colleagues
83% of our applicants told us that they enjoyed the interactive application process
73% of our applicants reported that they felt more self-aware following their feedback report
And the winner is...
Dee Set will go head-to-head against many household names at the FIRM Awards to take the title of 'Best Candidate Experience', including: AstraZeneca, Royal Mail Group, United Nations Development Programme (UNDP), Virgin Media O2, Vodaphone and Atkins. Its therefore testament to the strength of our award entry that we are able compete against these heavyweights. You know what they say about the underdog though!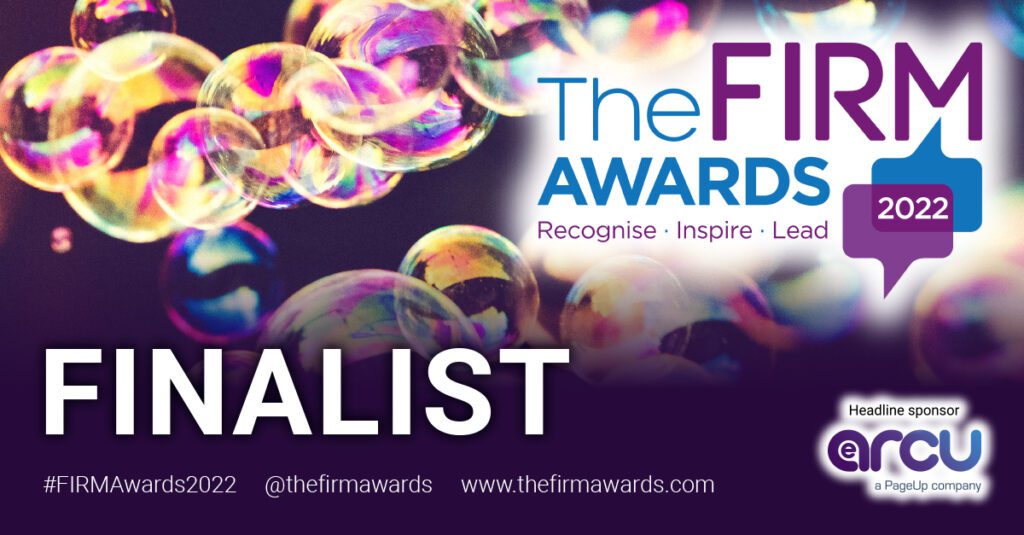 Antony Lee, People & Retail Director commented: "We're delighted to be recognised for this award. We've worked hard to create a recruitment process that is candidate focussed, flexes our tech capabilities, and takes some of the heavy lifting away from our recruiters, adding even more value to the team's roles and responsibilities.
"It doesn't stop there though. As a business we look to improve relentlessly and continuous innovate. Recruitment is no different and during these challenging times within the job market, this is even more important now than ever before.
"We're honoured to be recognised against some of the biggest names in the country and we wish them and all the other businesses shortlisted in the other award categories the very best of luck."
Want to see what all the fuss is about? Why not check out our candidate experience for yourself and apply for one of our current vacant roles.
Fingers crossed the journey doesn't end here.
A data and tech journey
Earlier this year, we announced that we'd drive digital transformation in retail field marketing, and as part of our ambitious plans we would create a data and tech solution that would lead to marketing-leading insights that both retailers and brands could benefit from globally.
Well, we've done just that. Today the Dee Set Group is proud to launch Reapp.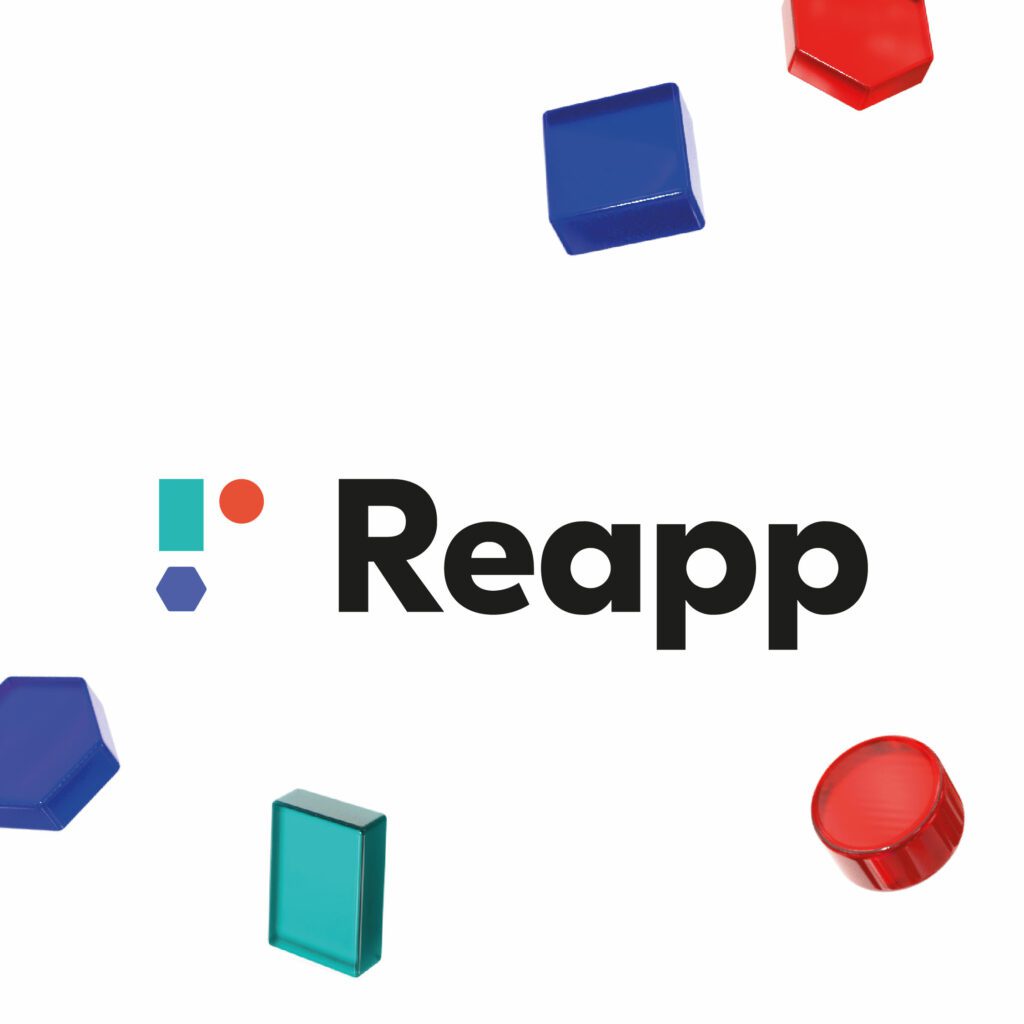 Introducing Reapp
After reinvesting over £10 million into our data and technology in recent years, and with a further £7 million worth of investment planned by 2025, Reapp is a suite of bespoke, cutting-edge software applications that empowers brands and retailers to smash their targets. By harvesting the very best data from a wide range of sources, Reapp simplifies that information to generate decisive sales actions at the shelf edge. As a result, product availability and compliance are optimised, and you reap the success of increased sales and greater ROI.
Put succinctly, Reapp is your friend in the field. It makes the complex, simple, and the unseen, seen.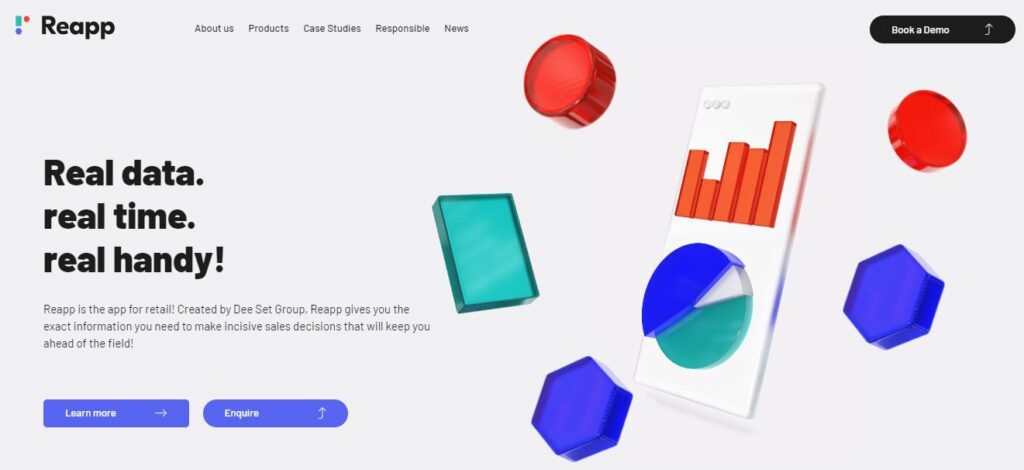 Real insights. Real time. Real handy!
Reapp's services are split across three areas:
Reapp Analytics: Is the brain of Reapp. It harvests data from all sources and delivers them through our bespoke software, so that real decisions can be made in real time in the field, to deliver real results
Reapp Performance: Our mobile enabled software, with leading image recognition technology works in partnership with Reapp Analytics to provide sales and stock insights, plus prioritised actions to field teams, keeping you one step ahead of the competition
Reapp Rewards: Our cutting-edge promotional software collects data direct from the retailer, giving you real-time insights into what products they are buying, where from and how. This knowledge makes your retailer relationships even more rewarding
Pretty cool, right?
We could give you the full sell here, but we'd rather you go check out Reapp in all its glory over on the new website we have launched – Reapp.uk. We're really chuffed with it.
Make sure to check out our case studies, they'll show you what we do not only works again and again for our customers, but could for you too.
Seen or heard enough? Send us an enquiry, book a demo and we'll show you first hand the power of insights!
Dee Set CEO, Greg Phillips provides comment in The Grocer's latest feature, written by Harry Holmes (The Grocer, Features Editor):
This year, the World Cup is moving to December. Will other summer sporting events take centre stage? And how will food and drink deal with the pressures of a World Cup at Christmas?
Qatar, 18 December 2022. The clock ticks towards 9pm. After 120 minutes of the World Cup final, the two teams cannot be separated. In the penalty shoot-out, Gareth Bale misses Wales' final kick. Harry Kane makes his way towards the penalty spot. A nation holds its breath.
OK, OK, let's not jinx it. But with the bookies predicting England will reach at least the semi-finals (Wales and Scotland's odds are marginally less favourable) there are surely at least a few fans dreaming football could this year be coming home for Christmas.
If it does, it won't just be the fans in wild ecstasy. Food and drink brands will be partying too. For as one of the biggest events on the planet, the football World Cup is an almost unrivalled opportunity to boost sales and entrench their brand in the hearts of millions of fans. Especially when the home nations do well.
The Three Lions' final-reaching run in the Euros last year generated an additional £2.3bn of food and drink sales in the UK, and that's not even including pubs. Add those in and the total comes to £3.1bn, according to the Centre for Retail Research – not far off Iceland's total annual sales.
Yet this year's World Cup has changed the rules of the game somewhat. Qatar's scorching heat means the tournament has moved away from its typical summer slot into November and December – with the final due just one week before Christmas Day.
It presents some unique questions for the year's sporting calendar. Namely, how will businesses adapt when one of the world's largest sporting events collides with the ever-manic build-up to Christmas? And secondly, can any other sporting event can fill the World Cup's place as the dominant fixture of the summer?
"How people try and blend Christmas and World Cup promos will be a real challenge"
To understand the impact on the summer's events, it's vital to understand what a winter World Cup means for retailers and brands.
"This year is a really one-off dynamic," says Greg Phillips, CEO of Dee Set, which works with Sainsbury's, Morrisons, Asda and Waitrose on in-store marketing strategies. He argues the timing of 2022's biggest sporting event will have clear ramifications "on marketing budgets and use of space in store".
Largely, this is because Christmas is just around the corner, so "how people try and seamlessly blend Christmas and World Cup promos will be a real challenge," he explains. "But a real opportunity for the retailers and brands who get it right."
To his mind, a joined-up and creative approach will be essential. "Think footy-mad Santa, elves' freestyle football tricks and 12 days of Cristiano," he suggests.
Any activity will certainly need to deliver maximum impact given the expected cost of advertising at this time. Granted, food and drink brands will no longer have to jostle for slots with sectors such as the travel industry, which usually invests heavily in advertising around the summer tournaments. But within the food sector, competition will be at its peak as the collision of the World Cup and Christmas for the first time leaves many food and drink companies feeling they can't afford to miss out.
"It's going to be very, very competitive," says Phillips. "If you want to land a promotion in November and December in any year that comes with a ticket. But then add in how competitive the sponsorship and marketing around the World Cup will be and brands are going to be really keen to be at the forefront of that."
For some categories, however, it won't be possible to go all-out. The new HFSS laws landing in October mean foods like crisps and bagged snacks will be banned from daytime TV advertising, as well as prominent promotions in stores.
With new HFSS laws landing in October, the World Cup is badly timed for foods like crisps and bagged snacks
For them, the World Cup is terrible timing. Had it taken place in the summer, snacks like crisps would be front and centre of every supermarket's campaign as one of the traditional bedfellows of major sporting events. As it is, the tournament rolls around once these new laws are in place and could be a painful time for brands unless they have reformulated successfully.
On the flipside, that timing could be a gift for booze brands. As most 'party foods' will be banned from promotional slots on aisle-ends, retailers will be looking to other categories to fill this space. Based on trials taking place at Tesco, alcohol is in pole position to appear in these areas.
Booze brands will certainly need to drive sales in retail, given that a Christmas World Cup will be bad news for sales in pubs and bars. Budweiser is predicting lower than normal on-trade sales – and the higher margins that come with those – as many fans opt to watch from home, rather than jam-packed beer gardens.
It is banking on higher uplifts in retail sales to compensate, with a forecast 30% rise in retail sales through the Christmas period. It's an improvement on the figures seen during other tournaments. During last year's Euros, for example, it grew sale volumes by 18%.
The timings of England's games will also help to boost those volumes. Two of their games in the group stage – including a potentially intoxicating clash against Wales or Scotland – are at 7pm UK time, setting the scene for fans to watch the match with a drink after work.
Read the full article here.
As we start a new year, what will 2022 bring for you? Are you one of around 75% of the population considering a new start this year? Or one of around 25% looking to jump ship in the next few months?
At Dee Set, we offer a range of job opportunities that could be perfect for you, from retail merchandising and warehousing to business administration and account management. We're a growing team that is looking for the very best to continue our mission of helping retailers and brands sell more.
Our people go hand in hand with the innovation of our tech, so it's important we place the right person, in the right role, every time. In doing so, we create a business culture that is driven by our three core behaviours:
Explore: We grow from everyone's ideas, energy and feedback
Say it like it is: Honesty and integrity are better today than tomorrow
Improve relentlessly: Our colleagues and customers deserve our very best
As a modern employer, we build roles which offer flexibility to fit around your lifestyle, give you the opportunity to progress and develop your skills and abilities, and provide you access to a host of benefits and rewards.
Our recruitment process, what can you expect?
When applying for a role with us we make it exciting, memorable and insightful.
We guarantee a first stage interview for everyone that completes an application with us. Yes, you heard that right! CVs are so last century and answers to standard questions can only tell us so much. We believe in really getting to know you and giving you the best chance to shine! That's why we start with a text-based interview (mobile friendly of course), that you can complete at a time that suits you – which takes no more than 20 minutes.
In the text interview, we have the opportunity to find out more about you and at the end of it give you something in return. After you complete your application you will receive a personalised feedback report highlighting your strengths, along with some coaching tips to keep and refer to as you desire. Pretty cool right?
In the meantime, we'll be reviewing your application and if we think you look like a good fit then we'll be in touch to discuss the various vacancies best suited to you and/or invite you to the next stage of our interview process - which will be face-to-face (whether that is in person or via video call).
Tips for applicants when applying for roles at Dee Set Group?
We live and breathe our values. That's why they form part of every colleague's job description within the business:
We give our best every time
We care about each other, our customers and communities
We challenge each other to be bold and innovative
Wherever possible we look for evidence within your application that demonstrates these values and links to our business behaviours.
Don't be afraid to show some personality. We don't want robots; we want people with soul and purpose. We love to know what makes you tick and what you're passionate about - share with us some stories.
Keep it real – remember it's a chat not an interrogation. Relax, open up and let us see the real you!
Don't delay apply today!
Learn more about what a career at the Dee Set Group looks like and view our latest vacancies here.
Everybody loves to receive a gift card! They also solve the dilemma of what to give to our friends, family, and colleagues as that special gift much easier – especially during the pandemic So, making sure gift cards are eye-catching and easily accessible to shoppers goes without saying. That's where we step in.
Challenge
Dee Set recently worked with Incomm on their gift card offering for Mother's Day across 217 Asda stores Nationwide.
Our specialist merchandising team were asked to organise and pre-pack multiple gift cards into store parcels, ready for Mother's Day themed Counter Display Units (CDUs) to be filled in store. Our team were briefed to deliver the CDUs and gift card store parcels directly into the retailer's DCs using our in-house Fleet team.
Dee Set merchandisers were then asked to implement and merchandise these units within a three-day period.No problem! Here's what we did.
Response
Our in-house Contract Packing team pre-packed 82,440 individual gift cards into parcels ready to fill 1,832 Mother's Day CDUs which were sited at checkout points within the stores.
Each of the 217 Asda stores had 8/9 units at checkout points per store. Counter Display Units, like these Incomm Mother's Day ones, are a great visual merchandising solution to encourage impulse purchases and most importantly, make your product stand out in-store!
Our team visited 100% of the stores that Incomm asked us to visit within a three-day merchandising window. This ensured maximum availability and sales opportunities for the brand during this peak seasonal sales period.
Results
implemented and merchandised 1,832 CDUs in 217 Asda stores.
82,440 gift cards picked & pre-packed into store parcels which then headed to Asda.
Our in-house Fleet team delivered the gift card parcels and units directly to the retailer's DCs.
100% of stores were visited.
We were 96.3% compliant!!
Want to set our Merchandising team a challenge?
We don't like to brag, but they do say that if you've got it, flaunt it! We believe our team at Dee Set are the best of the best. We are equipped with the knowledge, tech and drive to make sure we deliver solutions for our customers and generate top notch ROI! We're also nice people too.
Find out for yourself by contacting us today.
Get in touch with us today and let us grow your sales!